Michael B. Jordan Interview: Creed 3
[ad_1]

Michael B. Jordan steps into the ring once more with Creed 3. Set after the events of Creed 2, Adonis Creed is thriving as a famous boxer, husband, and father. His peace is interrupted when a blast from the past in the form of his old friend Damian "Dame" Anderson, once a boxing prodigy and now an ex-con, knocks on his door. Dame wants the chance to put his gloves back on and step into the ring after losing so much time.
Dame and Adonis' relationship is strained by lies and resentment, which culminate in a showdown between the two former friends that quickly becomes personal. Creed 3 is Jordan's directorial debut and the first in the Rocky or Creed franchises not to include Sylvester Stallone. Creed 3 features an impressive cast led by Jordan, Jonathan Majors, Tessa Thompson, Phylicia Rashad, Wood Harris, Florian Munteanu, and Mila Davis-Kent.
Related: Creed 3 Can Tell The Villain Story Rocky Completely Failed At
Screen Rant spoke with Jordan about his directorial debut, Creed 3. He revealed the advice that fellow actor-turned-director Jon Favreau shared with him, as well as the films and genres he turned to for inspiration. Jordan also teased his desire to expand the Creed-verse.
Michael B. Jordan on Creed 3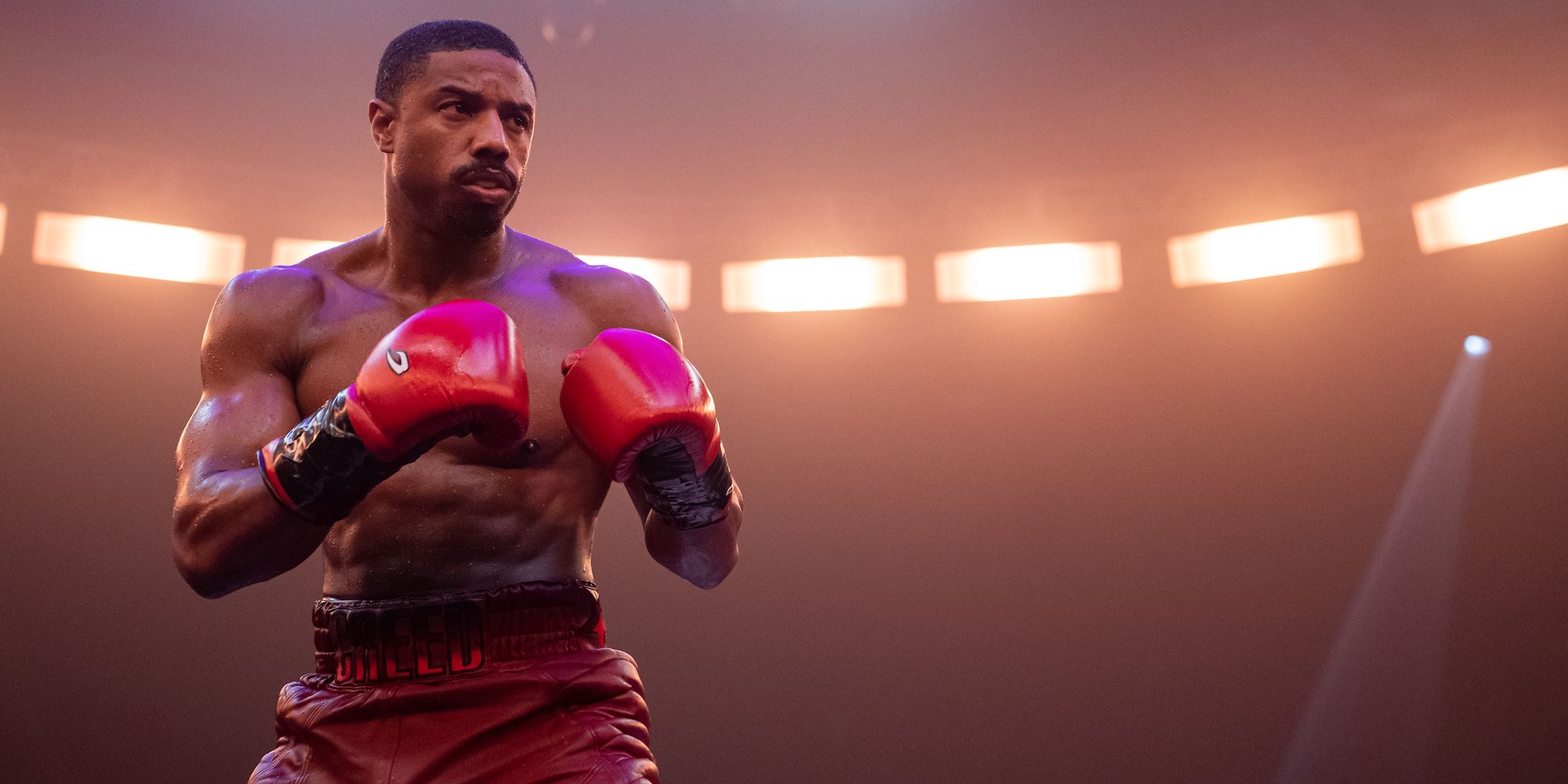 Screen Rant: Amazing job on this film! I'm going to tell you this, I think that final fight is the best fight out of any of the Rocky or Creed movies. I know you talked to other directors you've collaborated with in the past, like Denzel Washington and Ryan Coogler. What advice did they give you that stuck with you throughout this process?
Michael B. Jordan: Preparation. To be prepared; storyboard. Talking to Bradley Cooper, Jon Favreau, and the actor-directors was really important to me. [I wanted] to really speak to them and get their perspective on that anxiety of directing while you're in a scene. Sometimes, you are watching a bit of things, and not fully worried about acting. But then there's moments where you're fully locked into acting, and not watching as much.

Finding that balance between when you do and when you don't, and how to give the crew and the cast what they need so they can do what they need to do as well, is a balance. They took that anxiety off me; that weight off me of, "Okay, cool, this is what's gonna happen." It's like, "Okay. I can stop thinking about that, because that's what's gonna happen." And then you just find your own rhythm that just flows from there.
You do such a tremendous job at pacing. You build the film up until we get to these fights, and then the payoff with the actual fights is incredible. I know that you've talked about anime inspiring the fights, but what anime specifically inspired you, and did you also key in on any other genres?
Michael B. Jordan: Yeah, I don't want to tie it to anything specifically from anime, but there's universal themes of anime that are there that I pull from. Obviously, there's a visual language and certain things that I tried to achieve. The feeling and the notes of anime are all throughout the fights especially.

As for [other genres], I watched Cape Fear a bunch. The Sting was another one. There's a lot of movies that I watched; a lot of Westerns as well, because it had a Western kind of vibe. There's a few things that I watched earlier on in pre-production.

And then in the course of the film, and while you're filming, you don't really watch much of anything besides dailies. But those are some of the films that I looked at as references.
You also build up some of the other boxers in this universe, like Felix and Drago. And now I want to see that fight. Do you plan on expanding further, and have we seen the last of Damian in the Creed universe?
Michael B. Jordan: I don't know; I'm not sure. But you will see the Creed-verse continue to grow and expand. I think that we invested in some really interesting characters that I think a lot of people were responding to. I have to give a political answer to that. [laughs] There's going to be more of the Creed family, and there's gonna be more of some of the characters that you love from this movie. I just don't know what package it's going to be in yet.
About Creed 3
Adonis Creed is thriving in the boxing world and with his family. But his childhood friend and one-time boxing prodigy Damian "Dame" Anderson reappears in his life after being released from prison wanting a chance in the ring. The fight between these two quickly becomes personal as Damien has nothing to lose while Adonis has everything.
Check back soon for our other Creed 3 interviews:
Tessa Thompson
Jonathan Majors
Next: 1 Way Creed Movies Are Better Than Rocky (& How Creed 3 Can Continue It)